Learn how to surf in Tarifa. Surf lessons for beginners, kids and adults
All our surf lessons last two hours (except for the private lessons because of the intensity), price included surfboard, leash and wetsuit. Surf lessons start with 15 minutes stretch exercises on the beach, at the same time the surf instructor teaches you about safety, techniques and rules. After that you will go to the water and start to catch waves.
You will learn:
Safety aspects and rules
Stretch exercises to warm up muscles
How to read the ocean
You will practice:
How to wax your surfboard
How to stand up, start position
How to remain your body low
You will improve:
How to duck dive under a wave with your board when you paddle out
How to take a wave
How to ride a wave
Private surf lessons
The best way to learn surfing. One on One lessons. Having an experienced surf-instructor exclusive for you will speed up your learning process, while keeping you safe.
Price:
1,5 hour: 75 €

Semi private surf lessons (2 persons)
Learn together with your partner, sister, brother or best friend surfing. One surf-instructor for both of you
Price:
2 hours: 65 € per person

Group surf lessons (min. 3 max. 6)
Anyone can participate in a group beginner surf lessons. Our groups are no more than six people, so you will never get lost in the crowd and get plenty of attention from the surf-instructor.
Price:
2 hours: 55 € per person

Surf lessons included: surfboard, leash, wax and wetsuit
Wetsuits in all sizes available
Beginner surf and softboards
Lessons are given where the wave is the best in Tarifa
Extra: Transport costs from Tarifa to other surf spots on the Costa de la Luz: price on request.
Best surf season from 15 september till 15 april
Kids surf lessons all year round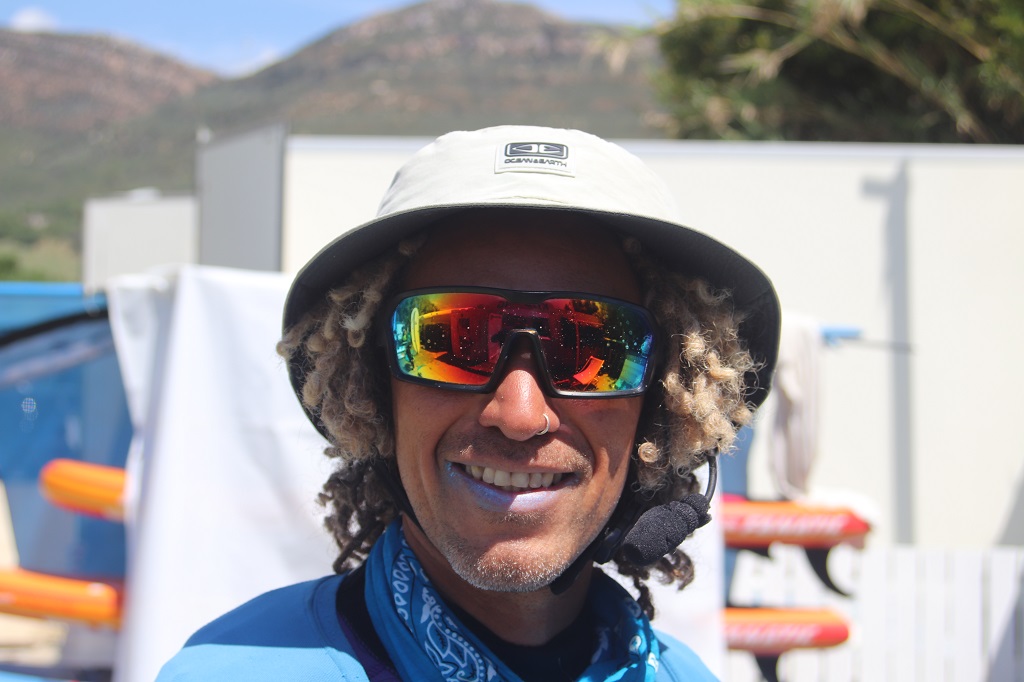 SURF INSTRUCTOR SANTI CABRERA GARCIA
Santi has a lifetime of surfing experience, is a true waterman. He has over 7 years of teaching surfing experience and in addition to surfing, he practices and teaches kitesurfing and wing foil at our school since 2019. His experience and confidence in the ocean is evident in the first few minutes.
Santi has a talent for giving the beginner surfer a new found confidence in the ocean with a surfboard, feel happy and have fun in the water, as well as energizing the advanced surfer to improve techniques.
The surfing lessons with Santi is much more than just a typical surfing lesson. His focus, deep understanding of the body movement, and extensive time in the ocean empowers Santi to develop meaningful lessons that his students identify with easily. He earned a well deserved reputation as one of the finest surf instructors in Tarifa. A surf day with Santi is always fun!
Speaks: Spanish, English
Before you go out in the water, you can train your balance feeling, at our school, with the Indoboard balance trainer. What simular is to the balance you need on a surfboard.
Or
Get in direct contact